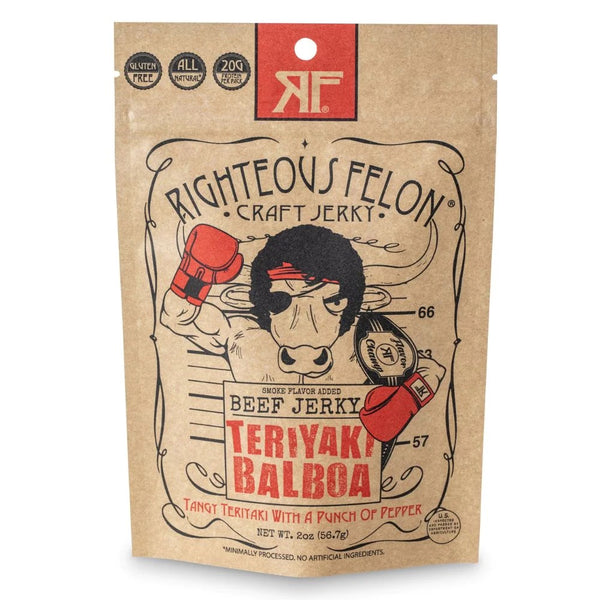 Righteous Felon Teriyaki Balboa Beef Jerky
A prized flavor-fight of saké, tamari, and brown sugar, all in reverence to triumphant teriyaki.

It started as "El Jefe's Last Stand." A limited edition R&D Jerky in honor of our CEO celebrating his nuptials. That's right. Brendan would lose his bachelor status, and his wife-to-be would soon lose her sanity.
As Brendan and his bride left the chapel for their honeymoon at the slaughterhouse, in a 1979 Dodge Station Wagon with tin cans rattling behind the bumper, the consensus was clear: every guest at the wedding LOVED Righteous Felon's trip into Teriyaki. Even the bridesmaids who decapitated each other over the bouquet toss made peace--this was one special jerky.
After some minor tweaks to the recipe, "Teriyaki Balboa" was born. A haymaker of flavor from locally sourced, Philadelphia farms, Teriyaki Balboa is the king of the jerky ring. With a left hook of honey and a body-jab of tamari sauce, this prize fighter won't ever throw the match, no matter how high the bribe. When it comes to this saké-infused yet lightweight jerky, the gloves are off and the championship belt is on, with an umami uppercut to win the day. Teriyaki Balboa: this palette-punching pugilist's got the competition on the ropes.
Flavor Highlights: Classic, Powerful, Savory, Salty, Honey Notes
Size:  2 oz